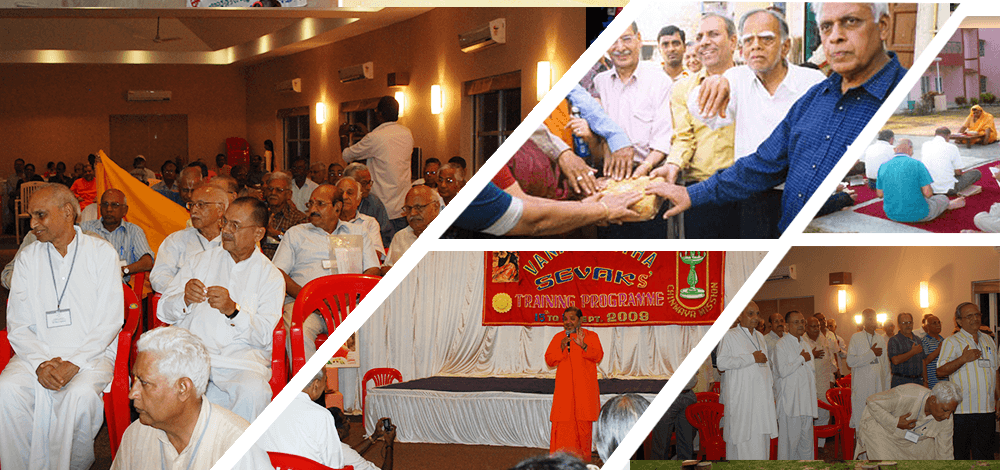 Chinmaya Vanaprastha


As vanaprasthis, when we are firmly rooted in the conviction that we must get established in Brahman, we will rightly and determinedly live a life that harbours all proper means to achieve this goal. A life that is adorned with such a goal naturally ages gracefully.
- Swami Tejomayananda
Introduction
The Central Chinmaya Vanaprastha Sansthan (CCVS) is the senior citizens wing of Chinmaya Mission uniting people over sixty years of age. CCVS encourages senior citizens to pursue the final spiritual goal of life and shows them the means to achieve it. It assists and trains householders and near-retirees (vanaprasthis) to make a smoother and easier transition from life in grihasta ashram to life in vanaprastha ashram.
The aim of CCVS is to give a comprehensive vision to senior citizens and to make their life healthy, serene, comfortable, purposeful and happy. Its motto is:
Graceful Aging through Spiritual Living
Chinmaya Mission's services for senior citizens are innovative, practical and unique. They help society's elders find a harmonious balance between action and inaction, a remarkable strength in retirement, comfort and security within a like-minded community and the beauty and wisdom of spiritual evolution.
Operating two specific projects, both providing the same amenities and with the same goals, Chinmaya Mission offers senior citizens the services of Pitamaha Sadans and Central Chinmaya Vanaprastha Sansthan (CCVS).
Genesis

About

Scheme and Courses

Pitamaha Sadans

Magazine and Books

Contact
In December 1995, a group of about 30 eminent citizens of Allahabad voiced concerns over India's fast growing population of elderly people. Solution to the problem seemed to lie in empowering them through a specially designed education curriculum to take care of the added 25-30 years of post-retirement life. Taking note of the fact that there was not a single educational institution for the elderly in India, a Third Age Institute was set up with its Headquarters in Chinmaya Naveen Seva Ashram Nyas (CNSAN) under the banner of Chinmaya Mission.
The institute was named as Chinmaya Vanaprastha Sansthan (CVS) – 'Vanaprastha' standing for the third stage of life and 'Sansthan' for institute. Developed by Swami Shankarananda, as the first ever educational course for the elderly in India, Vridhavastha Samadhan Shivir was inaugurated at Allahabad on 11 August, 1996. It was a national, residential camp, attended by 43 delegates from different parts of the country. In 1998, CVS formally came under the Central Chinmaya Mission Trust (CCMT), the apex body of Chinmaya Mission Worldwide and it now operates nationally as a wing of CCMT for senior citizens under the name – Central Chinmaya Vanaprastha Sansthan (CCVS).